What is Adopt-a-Drain (Delaware, OH)?
Adopt-a-Drain (Delaware, OH) is a volunteer-based program in which any person, business, or organization can agree to biweekly clean on and around a storm drain (this is referred to as "adopting") of their choosing to help improve stormwater quality and community cleanliness and reduce localized flooding.
Why should I get involved?
Help reduce localized flooding
Improve stormwater quality
Improve community and/or neighborhood cleanliness
Get involved in your local community
Opportunity to volunteer near a place important to you or that you frequent
How do I get involved?
Go to Getting Started to learn how to become a drain adopter!
---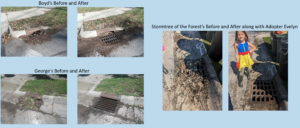 If you want to see yourself and/or drain featured on this page please send photos to stormwater@owu.edu
---
Adopt-a-Drain (Delaware, OH) Impact:

---
Download posters here